Security should be one of the top priorities of every WooCommerces site owner.
Especially in the situations when you ask your users to leave their email addresses or when they process to checkout to finish their purchase – you want to ensure the data stays safe and doesn't get into the hands of the wrong people.
The best way to secure your site from hacking is to install an SSL plugin. SSL or Secure Sockets Layer is a system that secures data coming to your website and keeps the communication on your site safe.
SSL ensures the safe transfer of data, its correlation to a proper server, and integrity. This plugin affects visitors' trust, so you definitely should have it installed on your website. When you install SSL on your website, you show your customers that they can trust your business.
Also, you can protect your website from viruses and hackers. Additionally, Google gives a higher ranking to sites with this plugin because it considers them safe and reliable.
How to tell if your site has the SSL plugin installed?
One can know that a website has an SSL installed by the green lock that appears left to the URL of your page. Another sign that a website has SSL is the HTTPS prefix before the website's URL.
Why should you install the SSL plugin to your WooCommerce site?
2020 saw the real bloom of e-commerce and online shopping. After the world went on lockdown, everything, including shopping, switched online.
But it seems like this trend won't stop – some predictions say that this trend will continue in the upcoming years as well. You want something that will serve you and your customers in years to come. Also, you want your website to be safe, so your customers return regularly.
That is where the good-built website comes in place.
As one of the most used platforms to build a site, WordPress can be the target of hackers or malicious software. If your site gets under attack, you are in the draw to lose everything that you built over the years.
Statistics say that most WordPress sites get hacked because of the following reasons:
Outdated software – 39.3% of sites that were hacked had old software, according to some statistics
Outdated plugins or themes
Stolen credentials for WordPress, hosting, or FTP – 16% of websites were hacked because credentials were stolen.
Supply Chain Attack
Poor hosting and outdated technology (PHP, firewalls, etc.)
But you should know that you can prevent many of these problems if you secure your website – and installing SSL is a great way to start.
You should install the SSL plugin on your website because of the following:
You are collecting data from your audience when they purchase from you. The last thing you want is for those data to leak or end up being misused.
Even if you send your customers to another site to make payments via the payment getaway, you still need to collect at least their email addresses or physical addresses for deliveries.
Installing SSL will help your store rank higher in Google search results
SSL plugin is becoming a standard in the online world, and it might be a determining factor for purchasers to decide whether to buy from you or not.
If you are using payment getaways, you should know that many of them require an SSL plugin because of the security and privacy requirements.
There are many available SSL plugins on the market, but today we will present you with one that is the best, at least when it comes to the reviews and experience coming from people who tested it.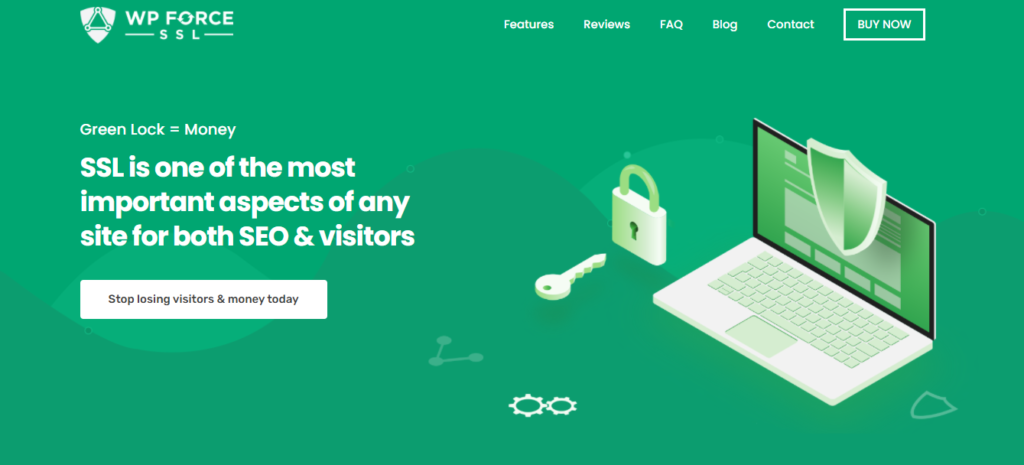 What is the best SSL plugin for your WooCommerce site?
WP Force SSL comes with many features, and it can satisfy everyone's needs. The plugin can work with any other plugin or theme and is easy to use and straightforward.
Because of that, WP Force can automatically generate an SSL for you, and you will be able to install it on your site easily. You can use various SSL certificates for this – either free or paid.
Owners of the WP Force SSL plugin offer their users an option to move licenses between various sites. In other words, if you deactivate your site but you still have your license, you can use it on another site. Also, you can securely migrate your content to another site if you decide to move the address. WP Force will do this without changing anything or touching any code.
The plugin does the real-time content check, and the website monitors are always on the lookout for any mistake that could harm your site's reputation. It can easily detect mixed content errors on your website and resolve them.
The plugin comes in free and pro versions, and as with pretty much every other plugin, the pro version offers many more different features. For example, content scanning and support are only available in the PRO version. The FAQ section on the website or various forums is a great option to find answers in the free version.
WP Force SSL Plans
As we already mentioned, WP Force SSL comes in a free version that has many SSL tests, including WP URLS status and expiry date checker.
There are three different PRO plans that you can choose from
Personal lifetime – you get a license for one site, lifetime support, all current and future assets, content scanner, real-time SSL monitoring, and dashboard. The price of this plan is $59 at the moment.
Team Lifetime – On this plan, you can have five sites under a license, and you get lifetime support, all current and future assets, a content scanner, dashboard, real-time SSL monitoring, and white-label mode. This plan currently costs $89.
Agency Lifetime – With this plan, you can have 100 sites under a license. You also get lifetime support for your website and all current and future assets and plugin updates. This plan also includes a content scanner, dashboard, real-time SSL monitoring, white-label mode, and rebranding. According to the WP Force SSL website, the price of this plan is $119.
The company also has a no-risk money-back guarantee. If you wish to stop using the plugin seven days after buying the license, you will get 100% of your money back.
Why should you choose WP Force SSL?
But what makes this plugin different from others on the market? Here are the key features of WP Force SSL:
SSL Monitoring
WP Force SSL constantly monitors the SSL certificate installed on the site and sends notifications when the certificate expiration date approaches. Also, users get a notification when one of the 50+ mistakes the plugin can follow happens.
Content Scanner
The plugin can scan all content on your page and look for mixed content errors. This means WP Force SSL can detect HTTPS content on the page and correct it. You can also choose if you want to see the mistakes the plugin detected and resolve them manually.
Content scanners may take a few seconds to check the content you have. After the check, you get a comprehensive list of information:
Types of errors you have in your store
Short description of every error
Location or page where the scanner detected the error
More details about each error
SSL configuration
WP Force SSL allows you to install an SSL certificate via the Let's Encrypt page. Installation is 100% free, and this will make your life easier because you will get all the necessary information to install SLL.
To enable this, select the button "Add SSL Certificate" or "Add Let's Encrypt Certificate." You will be able to activate this plugin with only one click.
However, if you are not able to set up SSL on your site using WP Force SSL, you should purchase WP Force SSL PRO. With the paid version of this plugin, you can generate a free SSL certificate or renew the existing SSL certificate every 90 days.
Centralized Dashboard
On WP Force SLL, you get a decentralized dashboard, and you can easily track all your sites, licenses, and SSL monitors without the need to log in to every site separately.
Easy to use
This plugin is easy to use, and you won't need any manuals or coding knowledge to use it. Creators of the plugin give their best to ensure it is simple for everyone, including beginners or people who do not have any coding knowledge.
To conclude
Now when more and more people are shopping online, it is important to ensure the safety of your site. One of the ways you can do that is to install an SSL plugin on your site. WP Force SSL is the best option on the market that you can choose.
People who installed this plugin claim that it is easy and simple to use and, even better, that it fixed their issues with website safety efficiently.