Gaming PCs are way too costlier than regular PCs. You might get the optimum gaming performance in the beginning however as you use the PC, the performance may dip down. Regardless of a gaming PC or a regular PC, every device requires proper optimization and tune-up to relish speedy performance.
There are a few settings that you can configure to increase FPS and boost your PC performance. You can manually optimize your gaming PC manually or use one of the best game optimizers. These steps will boost your Frames Per Second (FPS) rate and customize settings to get the best ever gaming experience. Let's start with the manual settings first!
Ideal FPS Settings
Low FPS may result in a sluggish and choppy gameplay experience. Most of the games these days use 60 plus FPS for the best ever experience. The ideal FPS should not exceed the monitor refresh rate. Gaming laptops these days can support a refresh rate between 144 to 360 Hz. Regular PCs Frame Per Second (FPS) may range between 60 to 120 FPS.
Enable Gaming Mode
The easiest thing you can do is to turn ON the Game Mode. It's an easy toggle that can enable perfect settings to automatically enable and detect gaming settings when you start playing games.
Step 1. Press (Win + I) to get into Windows settings.
Step 2. Scroll down the list and click on the Gaming option.
Step 3. Click on the Game Mode in the left-hand side panel.
Step 4. Toggle ON the Game Mode button to automatically optimize your gaming PC when you start playing games.
Install Windows Updates
Running Windows Updates at a timely interval is necessary for the overall improvement of your PC. It brings the latest updates, bug fixes, added features, utilities and enhancements.
Step 1. Press (Win + I) to get into Windows settings.
Step 2. Scroll down the list and click on the Update & Security option.
Step 3. Click on the Windows Update option in the left-hand side panel.
Step 4. Click on Check for Updates button to install the latest Windows Updates. If there are critical updates installed, it will ask you to restart the computer.
Update Graphics Drivers
Step 1. Press (Win + R) to open the Run command window.
Step 2. Type devmgmt.msc and hit the Enter key to open Device Manager.
Step 3. Expand Display Adapters and double click on the graphics device.
Step 4. Check out the device properties, click on the Driver tab and make a note of the make and model of the graphics card.
Step 5. Click on the Update Driver button and install the latest device drivers. Ensure that the Windows Updates are already installed before you perform this action.
Disable Notifications
Notifications popping up while playing games can be annoying and interrupting. You can disable notifications while playing games.
Step 1. Press (Win + I) to get into Windows settings.
Step 2. On the settings window, click on the System option.
Step 3. Click on the Focus Assist option in the left-hand side panel.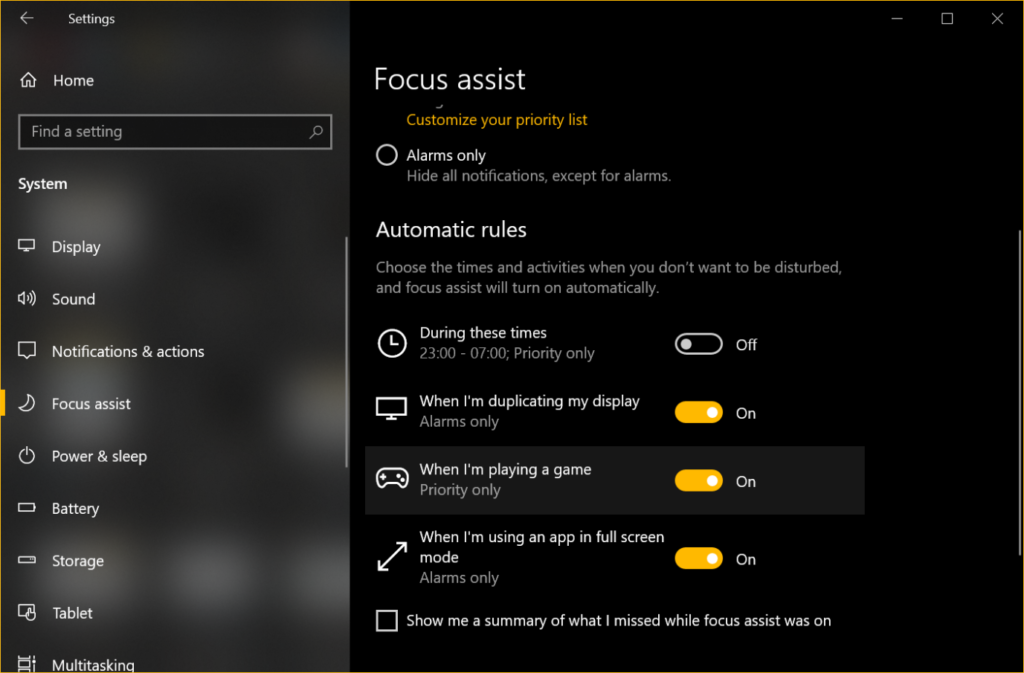 Step 4. Toggle ON notifications while playing games and turn ON the Priority Only alarm.
Optimize Gaming Settings
Every game that you install has a settings section that allows you to configure the best settings that can fit your computer configuration. It is advised to configure the best possible settings before you Optimize Your Gaming PC.
Lower down your game's resolution to get the optimum frames per second (FPS). Configure the FX quality, shadow effects, refresh rate, texture quality, Vsync, and other settings.
Use Advanced System Optimizer
Compatibility: Windows 10, 8.1, 8, 7, Vista, XP
Price: FREE / $49.95
Download Link: Get it Here
Advanced System Optimizer is one of the best PC optimizers available for Windows 10 and earlier versions. It has multiple inbuilt utilities to optimize your gaming PC and offer the best security settings by Norton securities. Advanced System Optimizer has one of the best junk cleaners and RAM boosters to offer 100% optimization and the best cleaning.
Advanced System Optimizer has a special section for Game Optimization to configure the settings for the best gaming experience. It opens all your games into sandbox mode so you relish an uninterrupted gaming experience. As you close the games, it optimizes your RAM and frees up memory for upcoming files.
Advanced System Optimizer not only optimizes your internal hard drive but can also optimize your external HDD, SSD, 4K Drives, SD Card, USB Drive and other devices. Inbuilt features include smart PC Care, Backup and Recovery, undelete files, securely deleting files using a shredder, driver updater, memory optimizer, game optimizer, privacy protector, secure encryptor, and more.
Summing Up
The above tweaks to increase FPS and get the most out of your gaming performance. You can optimize your gaming PC or a regular PC to enhance your computing experience. The above settings not only improve your gaming experience but also gives proper optimization for overall PC tune-up. You can use Advanced System Optimizer for the best PC optimization and gaming performance.