Device overheating is a serious concern, especially on MacBooks, which can lead to reduced performance and potentially even damage the internal components. As you may have noticed, MacBooks generate a lot of heat while operating, and it gets worse when you're using them for prolonged hours or working on resource-heavy applications.
So, a cooling pad can be a useful accessory that can help your MacBook from overheating. In this post, we have listed some of the best cooling pads for MacBooks that will help in providing additional airflow to reduce the extensive heat generated by your device.
Let's get started.
Also read: How to Access and Control Mac Remotely For Any Device
Why Do You Need a Cooling Pad for Mac?
When a MacBook or any laptop is used for extended periods of time, the internal components generate heat.And if the laptop's built-in cooling system can't dissipate the heat quickly enough, it may start to overheat. Overheating can cause a decrease in performance, and it can also potentially damage the internal components. So, a cooling pad is an accessory that keeps the device overheating in check.
A cooling pad helps to prevent overheating by providing additional airflow to the bottom of the laptop. The pad has built-in fans that help circulate air around the MacBook, and this can help reduce the temperature of the internal components, keeping them within safe operating limits.
Best MacBook Pro Cooling Pads to Use in 2023
Looking for the best MacBook air cooling pads that keep your device's performance in a top-notch state? Here you go!
#1 Thermal Take MassiveTM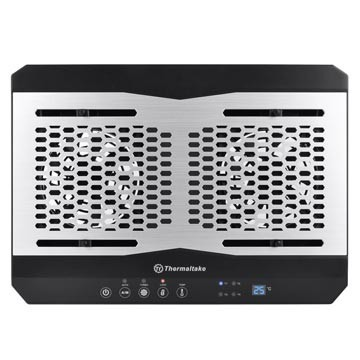 Massive TM is an amazing notebook cooler for Mac that has a built-in temperature sensor that measures the temperature of the laptop and displays it on an LCD screen on the front of the cooling pad. It features a large aluminum panel with a mesh surface that helps to improve heat dissipation and airflow.
The Massive TM also includes two 120mm temperature-controlled fans that can be adjusted manually or automatically based on the laptop's temperature. The design of the product is quite handy offering a comfortable viewing angle and hand position. MassiveTM is powered by a USB port and includes an additional USB pass-through port for connecting other USB devices.
Also read: MacBook Camera Not Working? Here's How to Fix it!
#2 Havit RGB Laptop Cooling Pad
The Havit RGB Laptop Cooling Pad is a type of cooling pad designed specifically for laptops, including MacBooks. As the name suggests, it features RGB lighting, which can create a colorful and stylish look, especially in low-light environments. It is the perfect blend of minimalist and ergonomic design offering a comfortable typing and handling experience.
This cooling pad has three high-speed fans, which help to circulate cool air around the laptop and improve its cooling performance. The RGB lighting is the true USP of this product, as it can be customized through a dedicated button, allowing users to choose from a range of colors and lighting effects.
#3 Targus Portable Chill Lap Mat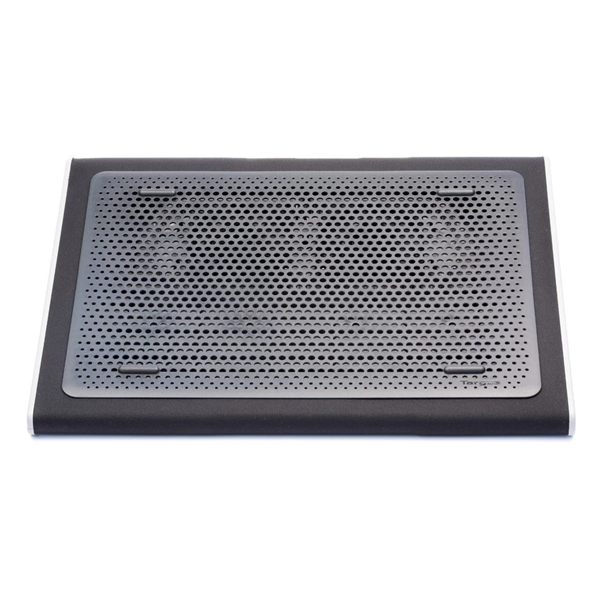 The Targus Portable Chill Mat is a type of laptop cooling pad that is designed to help prevent overheating and improve the performance of laptops, including MacBooks. It is a compact and portable device that can be easily used on a lap or a desk.
The Chill Mat has dual fans that help to circulate cool air around the laptop, improving its cooling performance and preventing overheating. The fans are powered by a USB connection, which can be connected to the laptop or a USB charger.
#4 Lamicall Laptop Cooling Pad
Here comes another intuitive pick on our post of the best MacBook Pro cooling pads. The Lamicall Cooling Pad is made of a high-quality metal mesh material that allows for increased airflow and heat dissipation. It has two high-speed fans that help to circulate cool air around the laptop, improving its cooling performance and preventing overheating.
The Lamicall Laptop Cooling Pad has a sleek and stylish design that complements the design of MacBooks. It is available in a range of colors to match different MacBook models.
#5 TopMate C11 Laptop Cooling Pad
The TopMate C11 Laptop Cooling Pad is a practical and functional accessory for MacBooks that helps to improve cooling performance and prevent overheating. It can be adjusted to six different angles, making it suitable for use on a desk or a lap.
It features five high-speed fans, an adjustable height feature, and an anti-slip baffle making it a versatile and reliable choice for users. This unique cooling pad comes in a slim and lightweight design that makes it easy to carry and store.
Conclusion
A cooling pad is an essential accessory for MacBook users who want to prevent overheating and enhance their laptop's performance. You can pick any of the above-listed MacBook Pro or MacBook Air cooling pads that can help to protect your device. Investing in a good quality cooling pad is a worthy investment that ensures you can enjoy your device's performance for years to come.
Do you think cooling pads are useful for MacBooks and other laptops? Feel free to share your thoughts in the comment section.