If you've landed here, chances are that you are looking for an easy and quick way to find and delete duplicate photos that are scattered all over your phone storage. Those clone selfies, portraits, blurry images do nothing but clutter your collection, leading to a lot of confusion when finding the right version of a specific picture. Not only this, having dozens of duplicate images significantly takes a lot of storage space, eventually slowing down your smartphone.
Unfortunately, identifying and removing duplicate photographs can be a troublesome task, when done manually. Therefore, we recommend our users to take help of a good duplicate photo finder for iPhone/iPad (2022).
Fastest Way To Find Duplicate Photos Using The Best Duplicate Photo Remover Tool
In this blog post, we'll be introducing you to the best iPhone app to detect and clean clone images in a few taps.
Meet Duplicate Photos Fixer Pro
While attempting this topic, we got the opportunity to test several third-party applications that help users to scan their smartphone for finding and removing duplicate photos, selfies, portraits etc. During our testing, we found Duplicate Photos Fixer Pro by Systweak Software, to be one of the most ideal ways to find and clean both exact and similar-looking images in a couple of taps.
Here are some of the most prominent highlights of using Duplicate Photos Fixer Pro for iOS users:
Lightweight Duplicate Photo Finder
The duplicate image remover takes very less storage space and merely hogs any memory or phone resources that ensures smooth functioning.
Equipped With Powerful Algorithms
The application uses smart algorithms to compare images based on content, rather than just file name, size or date of creation. The app lists both exact and similar-looking photographs.
Simple & Straightforward UI
The duplicate photo cleaner comes with an easy-to-use and intuitive dashboard, with all the clearly labelled buttons and features, all packed in a decent theme.
Enjoy Organized Photo Collection
Using this duplicate photo remover one can have a duplicate-free image collection. This will help to relish your memories without having to go through a bunch of clone images.
Preview Photos
All the duplicate photos are accurately identified and listed in a group-wise format that you can check, view and select before deleting them once and for all.
Specifications & Other Details: Duplicate Photos Fixer Pro
| | |
| --- | --- |
| Seller: | Shrishail Rana |
| Compatibility: | iPhone Requires iOS 8.0 or later. iPad Requires iPadOS 8.0 or later. iPod touch Requires iOS 8.0 or later. |
| App Size: | 19.3 MB |
| Languages: | English only |
| Price: | $6.99 |
| Privacy Policy: | Systweak Software – Privacy Policy |
| Age Rating: | 4+ |
| App Store Rating: | 4.1 Stars |
What Users Have To Say About This Duplicate Photo Eraser?
Let's take a look at what users have to say about Duplicate Photos Fixer Pro:



If you consider using this duplicate photo eraser, do share your personal experience while using this product in the comments section below!
How To Use Duplicate Photos Fixer Pro To Find & Delete Duplicate Photos? (2022)
Using this duplicate photo remover is pretty simple and straightforward process, just follow the step-by-step instructions to get started:
STEP 1 = Install the latest version of Duplicate Photos Fixer Pro on our iPhone/iPad. The application can be downloaded from the official App Store.
STEP 2 = Once installed, simply tap on the app shortcut to launch the duplicate photo remover and get started instantly. Hit the Allow button, when a prompt on Notifications and Accessing your Photos appears on your screen.
You can refer to the screenshot attached below to get a clearer idea.
STEP 3 = Once you've granted all the necessary permissions, you'll be greeted with an interactive dashboard as shown below.
At this point, you need to select the type of scan you wish to initiate on your iPhone to find and delete duplicate photos.
STEP 4 = In a few moments, you will see a list of all the duplicate and similar-looking photos arranged in groups.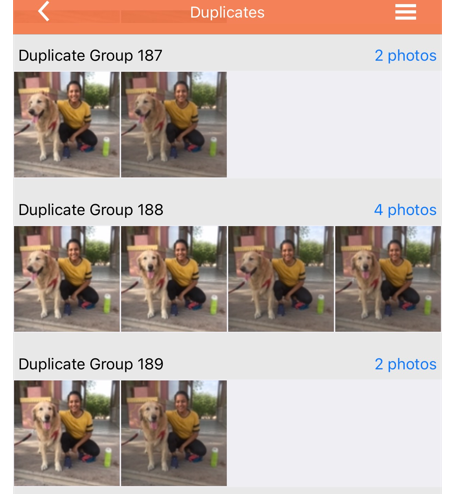 STEP 5 = At this step, you need to choose the Auto Mark option to let the duplicate photo finder automatically select all the clone images, rather than selecting them manually.
STEP 6 = As soon as all the duplicate photos are selected from all the groups, leaving the original one unmarked, you can tap the Trash Bin icon, located at the bottom right corner of the screen. You will see a confirmation prompt like attached below where you need to hit the Delete button.
That's it! You've successfully removed all the unwanted duplicate images on your iPhone/iPad. A huge amount of storage space will be reclaimed by now. Hopefully, this helps you enjoy an organized photo collection and enough space for storing other valuable data.
If you know or use any other duplicate photo cleaner for iPhone, feel free to share your suggestions in the comments section below.